Benefits of Dental Implants

Tuscumbia, AL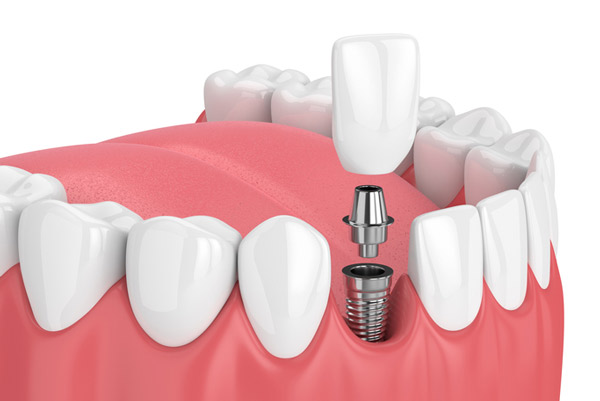 Dental implants can have a big impact on the way you look and feel about your smile and yourself. When your teeth are the best they can be, your whole outlook benefits. That's because dental implants from Singing River Dentistry are the number one tooth replacement solution and the results of years of improvements that all led to this moment in time. Dentures and bridges are all good and fine, but those are the best options of the past. Let's take a look at dental implants today, and why you should be making them your preferred method of dental restoration in the present and future.


What are Dental Implants?


So just what are dental implants anyway? A dental implant is a mouth restoration that completely replaces a missing tooth. It is made up of a strong titanium post that is placed into a patient's jawbone. The post fuses naturally with the jawbone through a process known as osseointegration, which renders it as strong and usable as any natural tooth would be. Dental implants come in single tooth implant and multiple tooth implant varieties, depending on your wants and needs. A dental implant is typically topped with a dental crown, to recreate the look of a natural smile.


Benefits of Dental Implants


Let's take a look at some of the most noteworthy benefits that dental implants provide:


Most Natural Choice


To put it simply, dental implants look great. They match your natural teeth, provide a great smile, and fool even the biggest skeptics. The most popular material choice for implants is porcelain, as it most closely resembles your existing teeth for a realistic look that can't be beat. Go ahead and flash those pearlies around in public, no one will be the wiser with this option.


The Bite that Bites Back!


Other dental restorations limit what you can eat and bite into. Not so with dental implants. Because of the strength offered by a titanium post anchored into and fused with your jawbone, you're pretty much able to bite down with the same force and enthusiasm as before.


Stops Bone Loss


Your jawbone needs the stimulating power of teeth movement to maintain its shape and strength. If you're missing teeth, then you obviously don't have that. That's why dental implants are the only tooth replacement option that puts an end to bone loss by maintaining the jawbone's natural stimulation.


Supports Nearby Teeth


Missing teeth form gaps in your mouth that allow adjacent teeth to move and shift. This is bad, as it creates misaligned teeth. Dental implants fill the gaps, giving you a lovely smile all over again.


Helps Keep Face Shape


Teeth do more than just help you chew, they create and maintain your facial structure to keep you looking young and healthy and do the opposite when you lose teeth. Luckily, dental implants do the same and restoring your mouth also restores your vibrant look.


Simple To Care For


If you already brush and floss regularly, then you know what to do to care for your implants. It's really that easy. And if you don't? Now's a good time to start to protect that investment.


Schedule an Appointment

To see if you qualify for dental implants, give our office a call today at and ask about a comprehensive dental exam to get you started. If you qualify for this life-changing tooth restoration treatment, Singing River Dentistry will be with you every step of the way towards your bright new future.