Dental Bridges

Tuscumbia, AL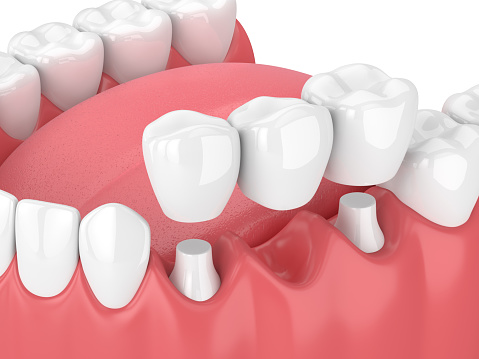 If you have some teeth missing, your dentist may suggest getting dental bridges to close the gaps in your smile. A missing tooth can cause a neighboring tooth to shift towards the empty tooth socket, which may result in chewing difficulties, bite problems, pain due to additional stress on the teeth and jaw, and make you self-conscious about your appearance.

A dental bridge consists of abutments and pontics. An artificial tooth, known as a pontic, is typically held in position using abutment teeth on both sides of the gap.


Types of Dental Bridges

Here is an overview of the four main types of dental bridges:


Traditional Fixed Bridge

This is the most common kind. It comprises two or more dental crowns along with a filler tooth. Crowns are primarily responsible for keeping the bridge in place. A traditional bridge is opted for when natural teeth are present on both sides of the gap formed by a missing tooth.


Cantilever Bridge

In this variant of dental bridges, the pontic only links to a single tooth. This option is recommended for people who only have a natural tooth on one side of the empty tooth socket. These bridges are commonly used to replace a missing front tooth.


Maryland Bridge

Maryland bridges are produced by bonding porcelain with metal or ceramic teeth and are supported by a framework. These bridges may be used if you have some front teeth missing. Wings on either side of the bridge fuse to your current teeth.


Implant Supported Bridge

These bridges use dental implants instead of crowns or frameworks for support. Usually, a single implant is surgically placed for each missing tooth. They work by holding the bridge in place. In case one implant for every missing tooth is not possible, the bridge may contain a pontic between two implant-supported crowns.


Benefits of Dental Bridges

Missing teeth can make it hard for you to speak, eat, or appear confident. Bridges are effective tooth replacements that involve placing an artificial tooth into the empty tooth socket and supporting it with crowns or implants on both sides. Here are some of the major benefits of opting for dental bridges:


Easy Chewing

A missing tooth can make it difficult or painful to chew. The pain may be caused due to the neighboring teeth shifting in the direction of the empty space. Food particles can also accumulate in the open space and cause gum damage. Bridges can restore your bite force and make chewing much easier.


Improved Speaking

If you have several teeth missing, it may get hard for you to pronounce some words or cause you to speak with a lisp. Your teeth play an important part in how you form words in your mouth.


Restore Your Smile

Missing teeth can make you self-conscious when you smile and lower your self-esteem. After getting dental bridges fixed, you are bound to feel more confident about your appearance and will no longer have to hide your smile.


Schedule an Appointment

Dental bridges replace missing teeth and prevent your surrounding teeth from moving toward the missing tooth socket. If you have a tooth or two missing, schedule an appointment with us at Singing River Dentistry by calling us today.