Dental Implant FAQs

Tuscumbia, AL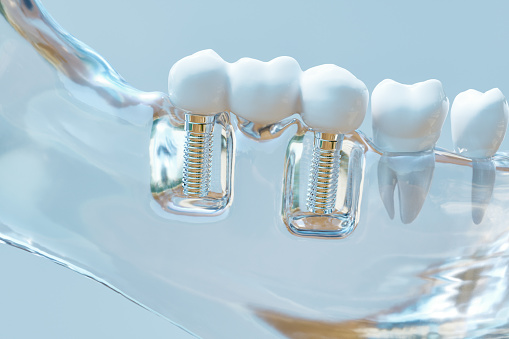 As adults, tooth loss can happen as we age. With tooth loss comes a few disruptions that affect how we eat, chew, and talk. When patients lose teeth, it can make their smiles less presentable, or even alter the facial structure. Dental implants have proven to be long-lasting solutions to these tooth loss problems, but there are questions that patients usually have about getting implants. Our professionals at Singing River Dentistry have provided comprehensive answers to frequently asked questions about dental implants.


What Are Dental Implants?

Dental implants are a type of restorative dentistry that mimic a complete tooth root. When patients suffer tooth loss, their jawbone loses the sensitivity it gets from the missing tooth root. So a dental implant is designed as a titanium post that is surgically placed into the jawbone to act as a tooth root. The jawbone grows to bond with the post and holds it in place, giving it support to receive an artificial dental crown.


Who is A Candidate For Dental Implants?

Dental implants are recommended for patients who have lost one or more teeth. Before a patient is considered for implants, the patient should have a healthy jawbone that is capable of growing and supporting the implant. Our professionals will evaluate your bone quality to see if you are a good fit. If not, we will recommend a bone graft or other alternative treatment option.


How Implants Prevent Bone Loss

When a patient suffers tooth loss, the jawbone loses stimulation from the missing tooth root. The stimulation is how the jawbone keeps its shape, density, and strength. Without any stimulation, the bones tend to grow out of shape and lose their density. Implant posts help the jawbone grow back and maintain stimulation after bonding to it in a process called osseointegration.


What Are the Benefits of Implants?

Getting an implant is a great option for fixing your tooth loss dilemma. They can last you for life and that means that you are saving a lot when compared to other restorative options. With dental implants, you can eat and chew the food you like without worry. Moreover, since the materials they are made of ensures that they never decay, all you need is good oral hygiene and regular dental checks.


What Implant Materials Are Used?

Dental implants consist of a small post made of titanium. This post is the part placed inside your jawbone. Once the jawbone has fused to this post and healed successfully, an abutment is attached. This abutment is how your artificial crown is attached to the implant. The crown can be made of metal, porcelain, or ceramic.


Does The Implant Procedure Hurt?

Getting dental implants is like any other surgery, and it can cause some discomfort during and after the procedure. Thankfully, our professionals are all about your comfort, so we will ensure that you are given local anesthesia to eliminate pain during the process. After the implant is placed, our team will give you proper medications to limit the after-procedure pain.


How Much Do Dental Implants Cost?

Depending on the patient and how many teeth are being replaced, the cost of an implant procedure may vary. Factors that could influence the cost of getting implants are the types of materials selected for the implant, and also if the patient requires some additional treatment before the implant is placed. For more details, you can schedule a consultation with us at Singing River Dentistry by contacting us at to get more information.


Schedule an Appointment

Please do not hesitate to schedule an appointment at our dental clinic. To learn more, give us Singing River Dentistry a call at 256-712-2240 today.