Digital X-Rays

Tuscumbia, AL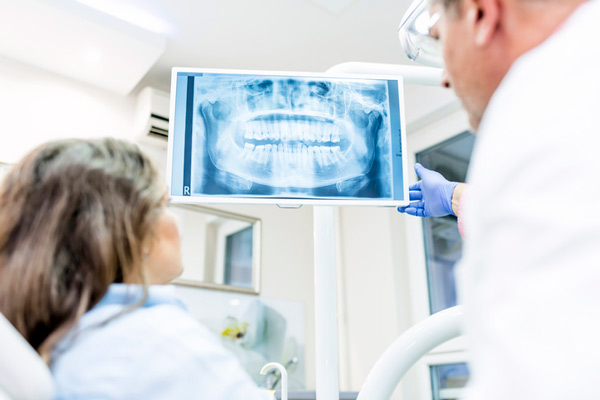 Taking care of your mouth is essential for ensuring optimal oral health. An important part of keeping your mouth healthy is dental exams. Routine exams allow us to check your mouth for warning signs of different issues before you notice anything is wrong. Sometimes, exams are needed when you notice symptoms of an oral health issue. These exams allow us to determine the root cause of the issue so that you can get the appropriate treatment. Part of your oral exam is a visual inspection of your mouth. There are many components of your mouth that cannot be seen with the naked eye. Singing River Dentistry can see these structures with digital X-rays.


How Important are X-Rays?

Your dental exams are essential for detecting the presence of oral health issues so that we can help you maintain optimal oral health. With a visual inspection of your mouth, we can see many structures and detect any issues. However, there are many components of your mouth that cannot be seen. This is where X-rays come in. These images enable us to see the hidden components of your mouth so that we can get a complete picture of your oral health and provide you with the best treatments possible. X-rays allow us to see:

| | |
| --- | --- |
| • | Cavities hidden between your teeth. |
| • | Damage to the roots of your teeth, such as root fractures. |
| • | Issues with your jawbones such as fractures and bone loss. |
| • | Cysts and abscesses. |
| • | Impacted teeth. |
| • | Tumors. |
Digital X-Rays

Digital X-rays are a modern alternative to traditional X-ray technology. Traditional X-rays are taken using radiation. With digital X-rays, your images are taken using electronic technology. This can be a big relief for patients concerned about radiation exposure. An electronic sensor, which is attached to a computer, is positioned in your mouth. We then take your X-rays with the click of a button. Where traditional X-rays need to be developed in a separate darkroom, digital X-rays do not need to be developed at all. Instead, the images are displayed almost immediately on a computer monitor. We do not have to leave the room at all.


The Benefits of Digital X-Rays

There are a significant number of benefits associated with digital X-rays. These benefits include:

| | |
| --- | --- |
| • | Reduced radiation exposure. With digital X-rays, your exposure to radiation is reduced up to 95%. |
| • | Fast, easy, painless imaging. |
| • | No need for image development. Instead of developing your X-rays in a dark room, the images are displayed almost immediately on a computer monitor. This saves valuable appointment time. |
| • | More accurate diagnoses and treatment plans. Special software allows us to manipulate the images so that we can see the smallest details of your mouth. Because of this we can more accurately diagnose issues and provide you with treatment plans that will provide you with more improved outcomes. |
| • | Improved patient experiences. Because we do not have to develop your X-rays, your whole appointment is spent with you. We can help you to understand your diagnosis and what treatments are available to you. We can also take the time to address your questions and concerns so that you feel completely confident moving forward. |


Digital X-rays provide us with a much more effective way to detect issues in the hidden structures of your mouth, allowing us to provide you with optimal care. We use them for many procedures like dentures, dental implants, and braces From family dentistry, cosmetic dentistry, and restorative dentistry, we are here to help you. For more information, call Singing River Dentistry today.