Periodontal Treatment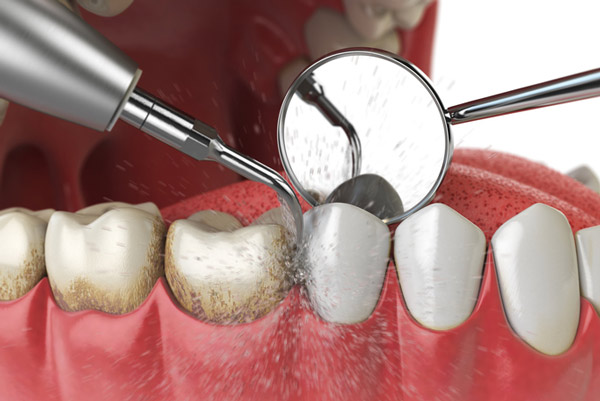 For many of those who are diligent about brushing and flossing on a regular basis, they may believe that a little bit of blood around the gum line is perfectly normal. Although often attributed to using toothbrushes with bristles that are too hard, any blood that is detected on the teeth regardless of the brush used should be brought to our attention here at Singing River Dentistry immediately.


What Causes Periodontal Disease?

To understand why it is so important to discuss bleeding around your gums, you need to know why it could be bleeding in the first place. It all starts with what you eat. Bacteria that reside in your mouth enjoy sugar. If you do not brush after, the bacteria can enjoy a feast that will likely leave a textured residue on your teeth. This residue can build up into a chalky substance called plaque which can eat away at your enamel. It is easy to remove, as all you have to do is brush and floss to remove the sugar the bacteria enjoys.

If there is a buildup in an area you cannot access readily, such as in the back teeth, eventually, it can move up into the gum line where your brush or floss cannot reach. Periodontal disease is the body's response to the bacteria in the plaque. It triggers the immune system to fight the germs which could lead to inflammation of the gums. Swelling and bleeding when you brush your teeth could be indications of the first stages of periodontal disease, which is called gingivitis.


How Periodontal Care Benefits You

As your gums swell, they may detach from the teeth and create a pocket. Bacteria are known to thrive in these snug recesses and could cause even more plaque to form. Advanced stages of periodontal disease could destroy the jaw bone and cause teeth to loosen or fall out. Because it can be so easy to brush regularly, there is no reason you should ever have to lose teeth. Being proactive about periodontal care is a necessity.

It is recommended you brush twice a day, once in the morning after breakfast and once before you go to bed, with a soft-bristled toothbrush. Anything else could cause irritation to your gums. Using a fluoridated toothpaste, gently brush both sides of all of your teeth to remove possible buildup.

The best way to recognize dirty teeth is when they have a textured fuzzy feeling to them. This is the residue bacteria leave behind after they eat the sugar they find in your mouth. Any time you feel this fuzz on your teeth, regardless of if you have already brushed twice that day, it is a good idea to brush again to be safe, but be aware of the risks of over brushing, which could also irritate your gums.

In addition, making bi-yearly appointments to visit us here at Singing River Dentistry is also a good way to treat many periodontal issues. Using scalers and thorough cleaning processes, we can keep a close eye on potential areas that may be more susceptible to build up than others. Between your dental routine at home and our supplemental upkeep every six months, you should never have to worry about losing your teeth to gum disease. If it is time for your check-up or you would like to schedule an appointment, give us a call here at and we can help you get on track for superior oral health.