Oral Cancer Screening

Tuscumbia, AL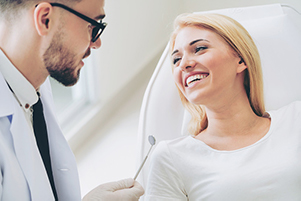 What is Oral Cancer?

Cancer is a disease caused by the unregulated division and spread of abnormal cells in the body. Oral cancer breaks out on the lips (usually on the lower lip), inside of the mouth, at the back of the throat, on the tongue and soft tissues of the mouth, and on the esophagus, tonsils, and salivary glands.


What is an Oral Cancer Screening?

An oral cancer screening consists of a visual exam and a physical exam of your oral cavity and the connected tissues. This procedure is used to reassure patients that they have no symptoms of cancer and to initiate treatment if they do.

We may suggest a screening in response to a patient's lifestyle and health, or the patient can request it themselves. Cancer screenings should occur before any cancer symptoms emerge.


What Happens During an Oral Cancer Screening?

As stated above, the screening has two parts: the visual exam and the physical exam.


The Visual Exam

During the screening, we look at your face, lips, neck, and inside your nose and oral cavity. Before the procedure, we will ask you to take out all of your removable prosthetic teeth to expose as much space as possible.

The exam is conducted with the patient either sitting upright or laying down. We will search for any asymmetries, bumps, patches of color, ulcerations, swellings, or other abnormalities. The dentist will use a light, mirror, and tongue depressor as they examine your nose and mouth, and may use other tools when inspecting your gums, throat, tonsils, inner cheeks, underneath your tongue, and the roof of your mouth.


The Physical Exam

During or after your visual examination, we will also touch your head and cheeks, under your chin, around your jaw, and in your oral cavity, feeling for abnormal masses or nodules. Immobility in tissue that is normally mobile can signal a potential problem, so if we find this, we might ask if physical contact in that area causes discomfort. The symptoms of oral cancer are often painful, but painless swelling can still indicate an abnormality elsewhere.


What Happens After the Oral Cancer Screening?

Oral cancer screenings are regarded as precautionary procedures, not to diagnose symptoms of cancer. If we don't find anything problematic during the dental exam, we may ask you to come back periodically for further screenings. This is especially the case if the patient drinks alcohol, uses tobacco, or has other lifestyle practices that increase the risk for oral cancer.

Singing River Dentistry will often refer a patient for further tests to investigate various symptoms, but even these are not diagnostic. Even if we find cancer, early diagnosis reduces health problems related to treatment later on. We recommend a toothbrush with soft bristles for anyone undergoing oral cancer treatment.

A cancer screening is both a medical exam and a chance to talk to your doctor about your concerns so they can be addressed. If you feel nervous about an upcoming screening, write down all of your questions beforehand. Even a brief examination can put you at ease.


Schedule an Appointment

To schedule an oral cancer screening, call Singing River Dentistry today at 256-712-2240.