Dental Implant Procedure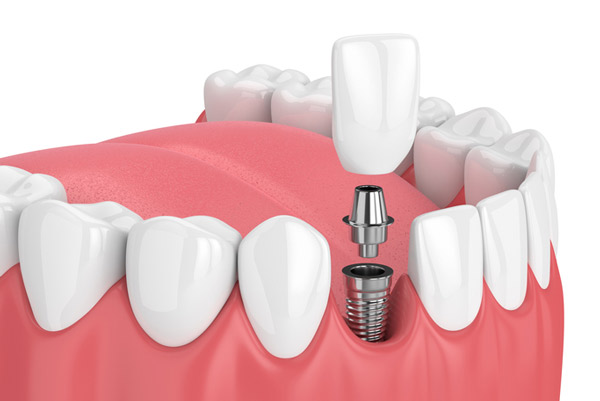 Missing teeth can make you conscious of your smile and alter your facial shape. They can also cause bone loss, ruin the alignment of adjacent teeth and cause premature aging.
To replace your missing teeth, a dentist might suggest artificial teeth attached inside or near the jawbone with a dental implant. Dental implants are artificial roots that are surgically placed into the jawbone.
Over time, the bone encompassing the implant grows and holds it tightly in place. Then, a replacement tooth is attached with a metal connector to the implant, filling in the gap.


Benefits of Implants

Dental Implants behave like natural teeth and can last a lifetime. One of the biggest benefits of implants is preventing bone loss and keeping the adjacent teeth stable. This reduces the chances of further complications.
Dental implants can also keep you free of gum disease. They can prevent premature aging and the sagging of facial muscles. They can also boost your confidence, allowing you to smile freely without being self-conscious.


Who Is a Candidate for Implants?

The perfect candidate for dental implants is someone who has and maintains good oral and general health. To qualify, you must have sufficient bone in your jaw that can provide support to the implant. Candidates for dental implants also need to have healthy gums that are free of diseases.


Dental Implant Procedure

Here is an overview of the dental implant procedure, so you know what to expect when you head to the dentist:

Evaluation

The first step is the evaluation of your teeth, gums, and jawbone. This initial assessment can determine whether you have enough healthy jawbone to support the implant. You must not have any periodontal diseases either. The number of teeth you wish to replace will determine the scope of the procedure and the type of implant you will get.

Implant Placement

If you are getting an endosteal implant, an oral surgeon will expose the jawbone by cutting the gum and drill holes deep into the bone, where a dentist will insert the implant materials. If you are getting a subperiosteal implant, the surgeon won't drill your jawbone but will place the implant on or above the bone.

Osseointegration

After the dental implant is placed, it takes two to six months before enough new bone grows around the screw. This process is known as osseointegration which means combining with the bone.
During osseointegration, your natural jaw bone will become stronger and grow around the dental implant to keep it firmly in place so it can function as an artificial root.

Abutment Placement

A metal extender called an abutment is then added to the implant. It will connect the replacement tooth to the implant. The gum tissue will then mold around the abutment, but it can take many weeks for your gums to recover after this step.

Placing the Tooth

Once your gums have healed, your dentist will take an impression of your teeth so they can make a permanent or replacement tooth that fits. You can choose whether you want a fixed or removable tooth.
You must maintain proper implant care after the procedure. Brush and floss daily. Treat your implant and new tooth the same way you treat your natural teeth. Also, visit your dentist for regular checkups.
If you have any questions about dental implants or want to find out if they're the right treatment option for you, call Singing River Dentistry today at . Our team of skilled and certified providers will examine you and determine if you qualify for dental implants.